Topaz Medical: Washable reusable masks with CE according to EN 14683 type IIR
Approved medical devices (medical masks, surgical masks)
Thanks to its properties, confirmed by independent test institutes, our washable Topaz® Medical Face Mask is now available on a permanent basis as a fully approved Class 1 medical device bearing the CE mark (MNS).  Additionally the masks are certified to Standard 100 by OEKO-TEX® in the most stringent category – product class 1 – thus attesting to their soundness in human ecology terms. This development marks a further step in Trans-Textil's reusability concept for the medical and infection prevention sectors in the form of products made in Germany according to high technical and ecological standards
Mouth and nose protection mask (medical face mask) with facepiece out of medical 3-layer membrane laminate
►  Virus-proof: facepiece tested for impermeability in acc. with ISO 16604
►  No moisture absorption: tested for impermeability to fluids in acc. with ISO 811
►  Microbiological purity: tested in acc. with EN ISO 11737-1
►  Biocompatible: biologically harmless in acc. with EN 10993-1
►  No skin irritation: as determined in acc. with EN 10993-10
►  Bacterial filtration efficiency and splash resistance: tested in acc. with EN 14683 Medical Face Masks
►  TYP IIR in acc. with EN 14683; product-typical restriction of the pressure difference
►  Harmless in human ecological terms: certified acc. to STANDARD 100 by OEKO-TEX® in the highest product class I
►  Excellent care properties: proven suitability for desinfectant laundering
►  Class I medical device, non-sterile
Medical 3-ply membrane laminate: The technology
Laminates consist of multi-layer textile composites and are produced by bonding textiles in a durable dot lamination technique to impermeable but breathable (water vapour permeable) membrane systems. It is the membrane system that makes the laminate impermeable to microorganisms and liquids.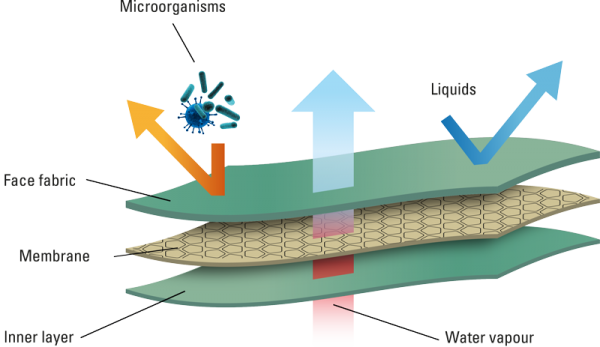 As washable reusable products, multi-ply membrane laminates are a long-established and track-tested solution.
OEKO-TEX® Certification
Certification according to STANDARD 100 by OEKO-TEX® confirms the high standards that Trans-Textil requires its Topaz® reusable medical face masks to fulfil in terms of harmlessness in human ecological terms. STANDARD 100 by OEKO-TEX® is a worldwide independent testing and certification system for textile products. It certifies conformity with all current limit values far beyond legal requirements. This mask fulfils the requirements of the highest OEKO-TEX® classification, product class I.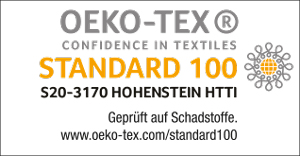 Material composition:
Outer layer: 100 % polyester
Intermediate layer/barrier: 100 % polyurethane
Inner layer: 100 % polyester
Reprocessing/Care instructions
Wash before use.

Versions
The Topaz® reusable mouth and nose protective masks are available with textile straps for individual tying around the head or with elastic straps around the ears, optionally with a nose clip.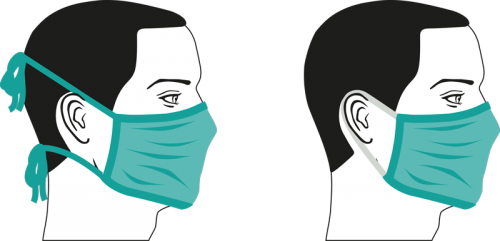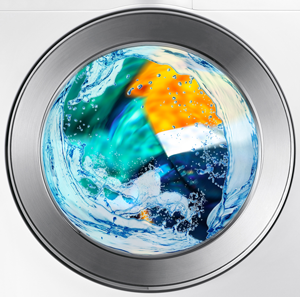 The benefit of reusability
Disinfectant laundering makes the masks ready for use again. Professional reprocessing can be obtained at industrial-scale laundry operations throughout Germany, washing and care instructions are provided with the masks. The repeated usability of the masks helps reduce medical waste.
Customised community masks
We are continuing to deliver selected models of our masks in the form of washable and reusable mouth and nose protection masks, also known as community masks. These we can customise with a logo, text, picture or image in a high-quality screen printing process at small production runs of 100 or more. Please contact us for a personal offer.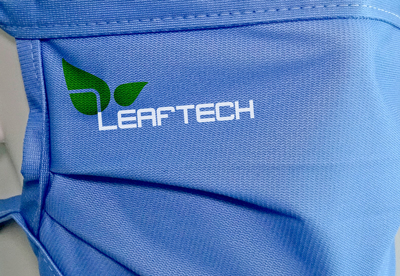 We look forward to send you detailed information on our washable Topaz® reusable face mask and are available to answer your questions